K class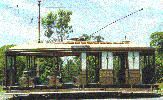 Nos: 746 - 802, 1280 - 1329 (107 cars)
Introduced: 1908 - 1913
Last withdrawn: 1956
Electrics: 2 x 50hp motors
Size: length 8.89 m
Seating/Crush load: 50??/??

This tram was a single truck all crossbench design, with closed compartments at one end and open seating at the other. It was rather like a short, single-truck version of the O-class tram, which was introduced at around the same time.
Preserved K-class trams
Nos 763 and 797, which were converted to scrubbers 138s and 139s in 1952/3, and were then sold to Melbourne in 1959, becoming scrubbers 10 and 11 there. Still in service (now called 10W and 11W), these trams are the oldest vehicles of any type in routine use in Australia. [2]
No. 1295, at the Sydney Tramway Museum, awaiting restoration
No. 1296, at the Sydney Tramway Museum
---
---
[2] Thanks to Dewi Williams for the scrubber tram picture, taken in William St. Melbourne in 1991
[9] Thanks to Greg Sutherland, suthergf@mail.ccsu.nsw.gov.au, for the other pictures on this page.