D class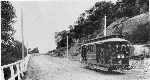 Nos: 98 - 121, 123 (25 built)
First introduced: 1899
Last withdrawn: mid-1920s
Electrics: 2 x 60 hp (originally 2 x 36 hp) motors
Size: length 9.4 m
Seating/Crush load: 34/?

This was a single-truck California combination car, similar to those operating on many other Australian tramways. When first introduced to Sydney, 6 were trailer cars, and, during their first year, they were even hauled behind steam tram motors.

It would appear that pressure from smokers, who were unhappy with their lot on the C-class trams, had something to do with the introduction of this design.
Preserved D-class trams
No. 102 (as 134S scrubber car), at the Sydney Tramway Museum. This tram was briefly placed back into service to do the initial track scrubbing for the new Sydney Light Rail line in 1997.
No. 117 (as 112S scrubber car?), at the Sydney Tramway Museum
---
---