Type H
(Interurban - Glenelg cars)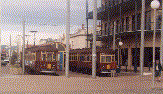 At Glenelg beach, June 1991 [2]

Nos: 351 - 380
Introduced: 1929, when Glenelg line was converted to light rail
Withdrawn: Currently in service
Electrics: PC5L2 control, 4 x 60hp DK108G, now 4 x 65hp EE308 motors
Size: 17.2 m x ?.?? m
Seating/Crush load: 64/170
Max speed: 70 km/h

This is the longest rigid tram operating in Australia, and the second longest built, after the H1. The trams are built for coupled operation, and travel as two-car sets at peak times. They were fitted with pantographs in the late 1986 when the fleet moved to a new depot at Glengowrie. With the retirement of Melbourne's W2 trams, these are now the oldest passenger trams in service in the country.
Preserved type H trams
Operating type H trams: Static type H trams may be found at:
---
(Prototype car - 'Sanivan')
Nos: 381
Introduced: 1953
Withdrawn: 1957
Electrics: PC5L2 control, 4 x 65hp EE308 motors
Size: 17.2 m x ?.?? m
Seating/Crush load: 52/184

This tram was the longest rigid tram ever built in Australia. It was a prototype built in 1953 for a fleet of 40, but the street tramways closed in Adelaide in 1958 and the remainder of the order was cancelled.
Preserved H1 tram
This single car operates at Australian Electric Transport Museum in South Australia.
---
---
[2] Thanks to Dewi Williams for this picture.
[7] Thanks to Tim Blythman for much of the information on this page.
[12] Thanks to John C Radcliffe for much additional information.