XP power car
British Rail HST shown for comparison

                         HST                    XPT
Locomotive class         43                     XP
Builder              British Rail            Comeng/ABB
Service entry           1978                   1981
Dimensions:
 - Length            58'4" (17.8m)            17.35m
 - Height                                      4.22m
 - Width                                       2.89m
Engine              Paxman Valenta         Paxman Valenta
                       12RP200L               12RP200L
   Specifications for Paxman Valenta 12RP200L
      Length:                 96.75 in (2458 mm)
      Width:                  56 in (1422 mm)
      Height:                 90.75 in (2305 mm)
      Crank centre height:    29 in (740 mm)
      Number of cylinders:    12 (intercooled)
      Bore:                   7.74 in (197 mm)
      Stroke:                 8.5 in (216 mm)
      Displacement:           4811 cu in (78.9 l)
      Maximum speed:          1500 rpm
      Piston speed @1500rpm:  2125 ft/min (10.8 m/s)
      Compression ratio:      13:1
      BMEP:                   247 psi (17.3 kg/cm2)
      Dry weight:             14930 lb (6770 kg)
               (Source: Janes World Railways, 1976)
Idle speed: 750rpm (1000rpm when supplying auxiliary power).
Overspeed protection at 1750rpm.
Power:
 - Gross (rated)        1680kW                1477kW
 - Traction                                1353kW (max)
                                     (1153kW when supplying aux power)
Alternator - Main       Brush           Brush BA10003A/BAE506A
           - Aux                        Brush BAH601B/BAE502B
Bogies (2)               BP-10                 BP-10
Traction motors (4)                     Brush TMH68-46 MkIII
Gear ratio                                     65:20
Wheel diameter                                 1020mm
Mass                     69.5t                  72t (dead mass 85t)
Axle load                17.5t                  19t
Fuel capacity                               4500 litres
Lube oil capacity                            340 litres
Maximum speed:
 - Service          125mph (200km/h)       100mph (160km/h)
 - Record           143mph (230km/h)       120mph (193km/h)
Number built
  Prototype:               2                       -
  Production:                                     19
Class numbers                               XP2000-XP2018

The Paxman Valenta engines were downrated by 10% to suit Australian climatic conditions. The lower power-to-weight ratio combined with the lower gearing gives increased acceleration from stops and slacks (speed restrictions and curves).

More engine details from the Alstom sales brochures.
XP2000-2009 built by Commonwealth Engineering (Comeng), Granville, NSW in 1981/82.
XP2010-2014 built by Comeng in 1984.
XP2015-2018 built by ABB Transportation, Dandenong, Victoria in 1992/93.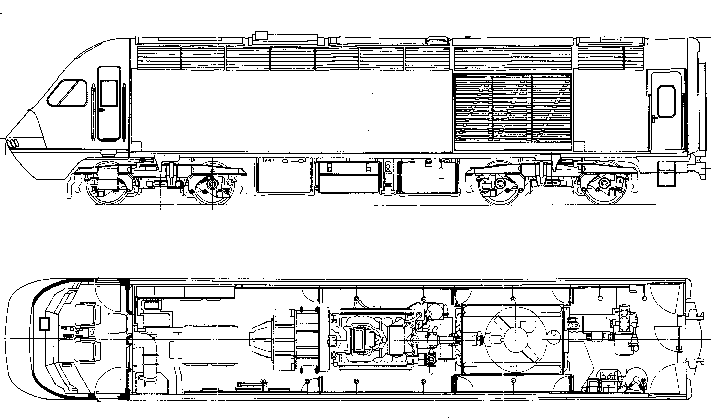 Back to top of page
---

All trailer cars are 24.2m long, 2.92m wide and 4.04m high. In comparison HST trailers are 33.5m long and rated at around 33.5t.

---
XD2206-2210 converted from XF in 1985.
XD2212-2213 built by Comeng in 1984.
XD2214-2225 built by Comeng in 1986/87.
XD2206-2210, 2212 converted to XM in 1988.
XF/XM2200-2209 converted to XB by Goninan in 1993.
XM/XF/XD2210-2224 converted to XF by Goninan in 1993.
XD2225 converted to XBR2157 by Goninan in 1993.
XB2200-2209 reclassed as economy class in 1994.