Delivery, test runs and demonstration runs
The first two vehicles, power car XP2000 and trailer XF2200, were completed on 23/8/81. The following are builder's photos taken on the day the two vehicles were completed.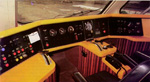 Cab of XP2000.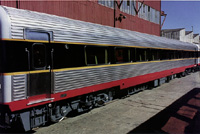 XF2200 at the Comeng Granville factory.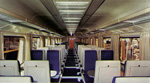 Interior of XF2200.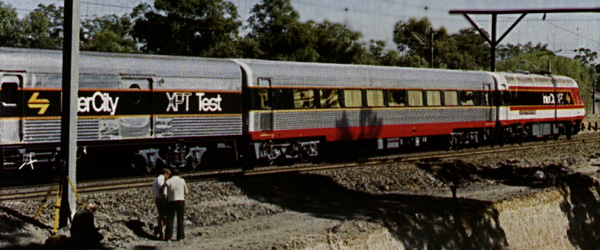 First test run with XP2000, XF2200 and MHN2364.

A tour train was arranged to show off the new train before pre-service testing commenced. The tour train consisted of XP2000, XF2200, XF2201 and MHN2364. The MHN was a Southern Aurora guards van painted to match the new carriages.
Locations visited were:
5/9/81: Wollongong, Thirroul, Picton, Mittagong, Bowral, Moss Vale, Goulburn, Junee, Wagga Wagga
6/9/81: Albury, Table Top, Gerogery, Culcairn, Henty, Yerong Creek, The Rock, Uranquinty, Wagga Wagga, Narranderra, Leeton, Griffith, Junee
7/9/81: Cootamundra, Harden, Yass Junction, Tarago, Bungendore, Canberra, Queanbeyan, Sydney
8/9/81: Katoomba, Mount Victoria, Lithgow, Bathurst, Blayney, Orange, Stuart Town, Wellington, Geurie, Dubbo
9/9/81: Binnaway, Dunedoo, Gulgong, Mudgee, Rylstone, Portland, Wallerawang, Sydney
12/9/81: Chatswood, Hornsby, Woy Woy, Gosford, Wyong, Newcastle
13/9/81: Maitland, Werris Creek, Tenterfield
14/9/81: Glen Innes, Armidale, Uralla, Kentucky, Walcha Road, Woolbrook, Kootingal, Nemingha, Tamworth
15/9/81: Werris Creek, Quirindi, Willow Tree, Murrurindi, Scone, Muswelbrook, Singleton, Newcastle
16/9/81: Dungog, Stroud Road, Gloucester, Mount George, Wingham, Taree, Kendall, Wauchope, Kempsey, Macksville, Grafton
17/9/81: Casino, Lismore, Bangalow, Byron Bay, Mullumbimby, Murwillumbah, Grafton
18/9/81: Glenreagh, Coffs Harbour, Raleigh, Nambucca Heads, Kempsey, Johns River, Taree, Dungog, Sydney
A new Australian speed record of 183km/h was set between Table Top and Gerogery on 6/9/81.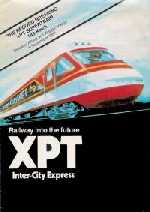 Early SRA promotional brochure.

Another test run of a full set, including the first use of an XPT buffet car, ran from Sydney to Taree and return on 29/1/82.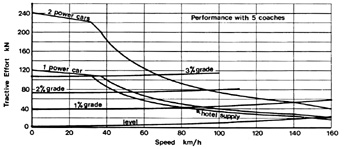 Tractive effort curve of 2+5 set. The lower lines indicate
the power required to maintain the balancing speed in
various gradiants. Click on the thumbnail to see a larger image.


The entire first batch of vehicles had been delivered by October 1982. All XPT vehicles were given the prefix X in their coding. P indicated a power car, B indicated first class seats, F indicated economy class seats, R indicated the buffet and H indicated a guard's compartment. Vehicle delivery dates and original power car names are as follows:

XP2000      27/ 8/81    City of Maitland
XP2001      20/10/81    City of Dubbo
XP2002      22/12/81    City of Armidale
XP2003       9/ 2/82    City of Taree
XP2004      22/ 2/82    City of Kempsey
XP2005      23/ 4/82    City of Newcastle
XP2006      29/ 5/82    City of Wagga Wagga
XP2007       2/ 7/82    City of Albury
XP2008      20/ 8/82    City of Goulburn
XP2009       3/10/82    City of Canberra

XBH2100      6/11/81
XBH2101     23/12/81
XBH2102      3/ 4/82
XBH2103     20/ 8/82

XBR2150     27/11/81
XBR2151     21/ 3/82
XBR2152     24/ 5/82
XBR2153     13/ 8/82

XF2200      27/ 8/81
XF2201       4 /9/81
XF2202      28/10/81
XF2203      15/12/81
XF2204       8/ 1/82
XF2205      29/ 1/82
XF2206       5/ 3/82
XF2207      16/ 4/82
XF2208      24/ 4/82
XF2209      29/ 5/82
XF2210       9/ 6/82
XF2211      11/ 7/82

Despite the class distinction, it was announced on 4/3/82 that the XPT would be all one class. Passengers would pay the first class fare plus a surcharge.


---
<DESIGN AND CONSTRUCTION]
[INDEX]
[REVENUE SERVICE>