XPT background
Public transport was a major issue in the New South Wales state election in May 1976. Between September 1977 and January 1978, tenders were called for the construction of 40 locomotive hauled cars for country use, 16 two-car railcars for outer suburban and inter-urban use and 25 high speed railcars similar to Westrail's Prospector.
Early in 1978, Commonwealth Engineering (Comeng) tendered a single alternative bid. Their plan was for a high speed train based on the British Rail Intercity 125 high speed train (HST).
Prototype HST at London Paddington.
Production HST locomotive 43064 City of York
at Leeds, April 1984, by Dave Spencer. (40Kb)
Click on the thumbnails to enlarge.

Comeng was also a licencee of Bombadier, and a variant of the VIA Rail LRC was also proposed. The HST was selected by the state government.
In February 1979, the Premier announced that 100 vehicles would be ordered for country and interurban services to Wollongong, Nowra, Kempsey, Grafton, Armidale, Orange, Wagga Wagga and Canberra. There would be 26 diesel electric power cars, 66 trailer cars and 8 driving trailers. These would form:
8 intercity sets in 2+5 form, that is two power cars and five trailers. Power car, guard/trailer, trailer, trailer, buffet/trailer, guard/trailer, power car.
6 interurban sets in 1+4 form. Power car, guard/trailer, trailer, trailer, driving trailer.
The new trains were marketed under the name of InterCity XPT (Xpress Passenger Train).

A $39 million contract was eventually signed in March 1980 for only 30 vehicles to form four 2+5 sets with two spare power cars.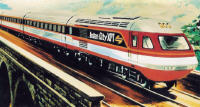 Early artist's impresison of the XPT.
---
[INDEX]
[DESIGN>