AUTOMATIC DISCHARGE HOPPERS

EXPAND CFCLA LEASE FLEET
---
Leading rail-leasing company CFCL Australia announced today that it is continuing to expand its Australian lease portfolio with the addition of 42 open-top automated-discharge ballast hoppers to its wagon fleet.
Forty-two wagon shells refurbished by CFCLA's US parent company arrived in Western Australia late last year. Perth-based engineering company Gemco Rail Pty Ltd, with whom CFCLA has established a sound working partnership in recent years, is undertaking final assembly, fit-out and painting.
The wagons are being converted for fully automated ballasting operations with Cattron remote control equipment and Gemco's own proprietary design hopper doors. Westinghouse Brakes, fully compliant with the new National Codes of Practice for rail, are being fitted to enable these wagons to operate anywhere in Australia, subject to acceptance under rolling stock outlines set down by ARTC and RIC.
Gemco holds an exclusive Australian licence for the Cattron Remote control ballasting system, and has developed a pneumatic over hydraulic power system in conjunction with Norgren and hydraulic systems in partnership with Gerard Hydraulics.
CFCLA Project manager Mike McGee said, "Our aim is to come up with the best product that can be offered to the market by maximising the synergy between Gemco and CFCLA. At the same time this forms part of our strategy to subcontract out as much of our project work to Australian companies. In the case of our new ballast hoppers this amounts to around 70 per cent of the total refurbishment."
The refurbished ballast hoppers will provide train operators and permanent way maintainers with several advantages:
· One person via the Cattron remote control system can control the entire unloading process. With the increasing focus on workplace safety issues, this will deliver significant Occupational Health & Safety benefits when compared to existing hopper fleets fitted with manually operated doors.
· They can hold 53 cubic metres of stone in a variety of sizes,
· Ballast can be distributed either inside or outside the rail head,
· Solar panels fitted to each wagon provide a renewable energy source for the batteries powering the remote control equipment, also ensuring that the batteries remain charged at all times.
Ross Kiesey, Gemco's National Sales Manager said, "We have been working with CFCLA for some time now on a number of projects and we consider them a valuable partner. We see this new contract as a very positive step in furthering our alliance with CFCLA."
One option being considered by CFCLA and Gemco is to provide the hoppers with greater operational flexibility. This can be achieved through the retrofitting of removable roofs and loading hatches if required, for example making the hoppers suitable for lease for grain movements as seasonal demand requires.
The addition of the new hopper fleet takes the value of CFCLA's lease portfolio of locomotives, rolling stock and plant equipment to over $55 million, making it the largest independent lessor of railway rolling stock in Australia.
During March, CFCLA will have 14 of the refurbished hoppers strategically based at Kalgoorlie for shakedown trials with several of the major permanent way maintenance companies based there.
Mike McGee concluded by saying, "Once testing and demonstration trials are complete, the hoppers will become progressively available for lease over the next few months."
"CFCLA is happy to be providing an important work tool for the rehabilitation and construction of rail infrastructure in Australia. It is our continuing aim to provide rail industry service providers with flexible leasing arrangements to coincide with their individual job requirements," Mike McGee said.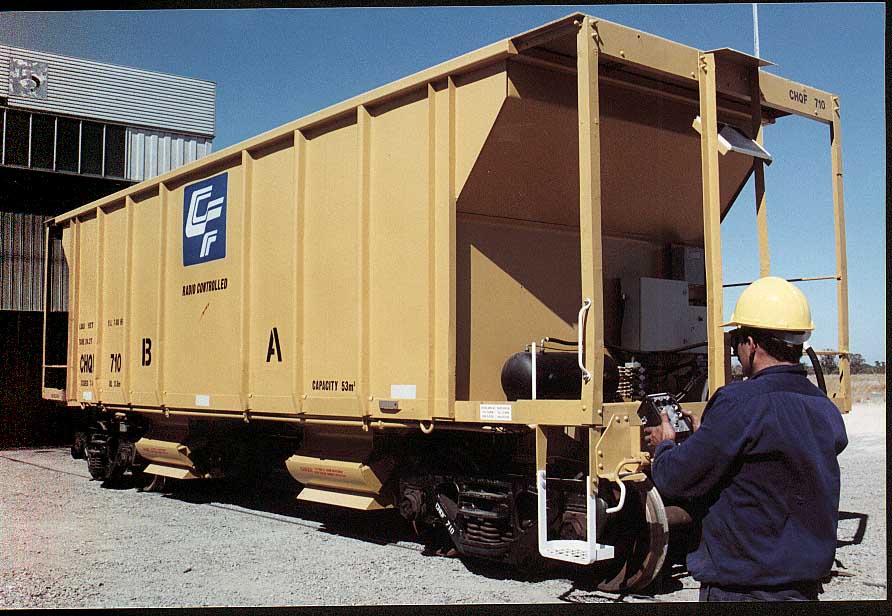 ---
Return to Railpage Online News